2 reports
Dog owners are increasingly willing to invest in higher quality dog foods that support the health and wellbeing of their pets. There is a strong emphasis on more natural and personalised premium dog foods which is driving current value growth. Royal Canin, the leading player in premium dog food, launched its new range of Health Management...
Dog Food
Portugal
Pet Food Sales
Greenhouse Gas Emissions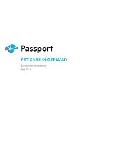 In 2017, pet care in Germany followed trends and developments from human-centred industries ever more closely. Smaller, independent manufacturers especially tended to pick up developments – even niche trends – from packaged food, health and wellness or even fashion, and translated them into products for pets. One of the larger trends was the...
Dog Food
Cat Food
Pet Food
Germany
Pet Food Sales
Pet Products Sales