2 reports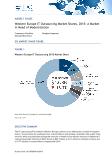 This IDC study analyzes the performance of the top IT outsourcing vendors in Western Europe and compares them with overall market trends, highlighting vendors that shaped the year based on either business performance or significant market initiatives."IT outsourcing is a highly competitive market with eroding revenues, resulting from evolving...
ICT
Cloud Computing
Advanced IT
IT Outsourcing
Hybrid Cloud
IT Hardware
Western Europe
IT Outsourcing Expenditure

About the Back Office Outsourcing Market in the Financial Services Sector Outsourcing refers to the transfer of business functions or services to a third-party service provider on a contractual basis. Companies primarily outsource to reduce costs and reap potential benefits such as gaining access to skilled expertise, flexible staffing,...
Financial Services
IT Outsourcing
World
APAC
Contactless Payments
Energy Consumption