3 reports

The global home textile market was valued at US$111.38 billion in 2021 and is expected to propel to US$145.05 billion by 2026. Home textiles include bedding, bath linen, kitchen and table accessories, carpets and rugs, and other items used as interior decoration. Home textiles, also known as textile home furnishing fabrics, are made up of...
Household Textile
World
APAC
Disposable Income
Household Consumption Expenditure
Major players in the large format printer market are Agfa-Gevaert N.V., Canon Inc., Durst Phototechnik, Epson, Xerox Corporation, Hewlett-Packard (HP), Konica Minolta, Mimaki Engineering Co. Ltd., Mutoh Holdings Co., The Ricoh Company Ltd., Roland DG Corporation, Fujifilm Holdings Corporation, Kyocera Corporation, Lexmark International, Shenyang...
Apparel
Navigation Systems
Printing
Telecommuting
Printing Machinery
Household Textile
Printer
World
United States
APAC
India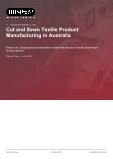 Stitch-up: Growing import competition is forecast to unravel industry performance Abstract Cut and Sewn Textile Product Manufacturing in Australia Industry firms primarily manufacture household textile goods (except apparel), such as bed linen, curtains, towels and pillows. Industry operators...
Textile
Household Textile
Australia
Employment Income
Textile Import