2 reports

The global convertible roof system market was valued at USD 1346.61 million in 2021, and it is expected to reach USD 1,663.92 million by 2027, registering a CAGR of about 3.61% during the forecast period. The Impact of the COVID-19 pandemic on the automotive industry is inevitable due to shut down of automotive manufacturing units...
Automotive
Auto Parts
Luxury Automobile
World
Europe
APAC
Luxury Automobile Sales
Car Sales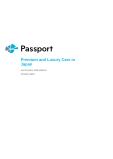 Although current value sales of premium and luxury cars returned to growth in 2021, this was after a significant double-digit decline in 2020, and was insufficient to return sales to anywhere near the pre-pandemic level. The automotive industry was one of the most badly affected by the COVID-19 pandemic in 2020, as mobility and spending were...
Luxury Automobile
Japan
Luxury Goods Revenue
Tourist Arrivals