2 reports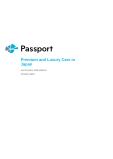 The automotive industry was significantly negatively affected by the COVID-19 pandemic in 2020, as mobility and spending were restricted, and these factors continued in 2021, limiting demand for high-end cars. Despite the easing of COVID-19 restrictions in 2020 as cases decline, sales are set to continue to fall in 2022. Premium and...
Luxury Automobile
Japan
Luxury Goods Revenue
Luxury Goods Consumption
Rising Disposable Income and Increasing Demand for Luxury Vehicles are Propelling China to become the Largest Global Market for Premium Cars China is the largest automotive market globally. In 2017, luxury cars accounted for a 10.3% share of the country's overall passenger vehicle market. The luxury car market is forecast...
Luxury Automobile
China
Disposable Income
Luxury Automobile Consumption