3 reports
Major companies in the personal services market include Service Corporation International, Elis SA, Fantastic Sams, Weight Watchers International Inc., Spotless Group Holdings Ltd., Tivity Health, Dignity plc, Regis Corporation, ProSiebenSat.1 Media SE and CSC Serviceworks Holdings Inc. The global personal services market is expected...
Personal Care
Laundry Services
World
Disposable Income
Real Gross Domestic Product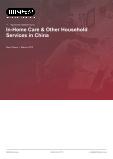 Abstract In-Home Care & Other Household Services in China Companies in the In-home Care and Other Household Services industry in China provide various in-home services for households, e.g., nursing care of infants, new mothers, children, elders and patients, etc., as well as cooking, cleaning, driving, housekeeping...
Household Services
Home Healthcare
China
Disposable Income
Employment Income
Major companies in the services market include BCD Travel, Enterprise Holdings Inc., Randstad Holding NV, Adecco Group, Travel Leaders Group, TUI Group, Recruit Holdings, ManpowerGroup Inc., Berkshire Hathaway Inc. and Waste Management Inc. The global services market is expected to grow from $12586.88 billion in 2021 to $14057.24 billion...
Real Estate
Infectious Disease
Big Data
Pet Care
Artificial Intelligence
Telecommuting
Parking Service
Laundry Services
Funeral Services
3D Printing
Personal Care
World
North America