3 reports
The North America Agricultural Tractors Market would witness market growth of 3.3% CAGR during the forecast period (2021-2027). Population growth, water scarcity, a scarcity of arable land, and the loss of land fertility are all factors driving up consumer demand for food. In relation to meeting consumer demand, the agriculture industry...
Agricultural Technology
Agricultural Land
Marketing Research
Food
North America
United States
Canada
Mexico
Food Production
Agricultural Area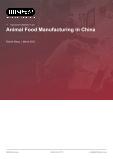 Abstract Animal Food Manufacturing in China Businesses in the Animal Food Manufacturing industry in China manufacture pet food, and feed for livestock and poultry raised on farms. Aquaculture and seafood feed manufacturing is not included in the industry. This report covers the scope, size, disposition...
Food Safety
Agricultural Technology
China
Disposable Income
Pig Sales

About Genetically Modified (GM) Seeds GM seeds have improved traits such as resistance to adverse environmental conditions, pests, and herbicides, and high yields. In 2015, the US dominated the global seeds market for GM seeds. Almost 40% of the world's GM crops are currently grown in the US. Monsanto held the largest share in the GM...
GM Food
Processed Food
China
Food Import
Disposable Income