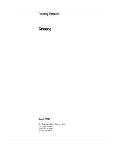 Country Forecast Greece June 2018 Updater
June 2018 •
Report ID: 1697281 •
Format: PDF


The government-comprising Syriza Coalition of the Radical Left (Syriza, the party of the prime minister, Alexis Tsipras) and the small, right-wing Independent Greeks (AE)-has a four-seat majority in the 300-seat parliament. The government may call an early election (the next election is due by September 2019) in 2018 or early 2019 to capitalise on exiting the bail-out programme and an improved economic environment. The centre-right New Democracy (ND) would probably win the most seats and form a government.
The Economist Intelligence Unit expects Greece to remain subject to strict policy conditionality over the medium term and until Greece's debt to its international creditors is substantially reduced. Protests over labour market reforms, pension cuts, privatisation, and tax and social security increases are likely to continue as the government strives to meet the ambitious annual primary surplus budget target of 3.5% of GDP until 2022 agreed with Greece's euro zone creditors.
Greece will face its biggest macroeconomic challenge after it exits the bail-out programme. How the economy performs during the transition will determine whether Greece will remain in the euro zone. We assess the risk of it leaving the euro zone by 2022 at more than 50%, given the difficulties that the country will face in attaining rapid growth while meeting large primary surplus targets and restoring competitiveness without a currency devaluation. We expect that public debt will still equal about 169% of GDP in 2022.
We think that Greece will remain in the EU but leave the euro zone by the end of our forecast period. It is impossible to pinpoint the timing of the exit, so we have not built it into our forecast numbers. Grexit would be accompanied by a major debt default and a severe recession for one or two years. After that the economy would grow at a rapid pace. Growth rates under this scenario would be faster than in our medium-term forecast (1.9% per year on average in 2018-22).
We forecast that annual average inflation will edge down from 1.1% in 2017 to 0.7% in 2018, before accelerating to an annual average of 1.5% in 2019-22, reflecting higher oil prices and a pick-up in domestic demand. These trends will result in widening, but still moderate, current-account deficits in 2018-22.