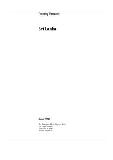 Country Forecast Sri Lanka June 2018 Updater
June 2018 •
Report ID: 1697308 •
Format: PDF


The Economist Intelligence Unit expects the ruling coalition, comprising the United National Party and the Sri Lanka Freedom Party, to serve until 2020, when its term expires. The remainder of the "national unity" government's tenure will be marked by tensions between the coalition partners.
Parties within the coalition will seek to build their respective support bases with only limited success, following a poor performance in the February 2018 local elections, which saw the opposition-the populist Sri Lanka Podujana Peramuna (SLPP, Sri Lanka People's Front)-capture the lion's share of the vote.
We believe that the SLPP will win the highest number of votes in the next parliamentary elections, which are due in 2020. The current administration's unfulfilled election promises regarding the elimination of corruption and the passage of a new constitution, as well as recurrent episodes of ethnic violence, will fuel anti-incumbent sentiment.
Sri Lanka faces the challenge of balancing ties with China and India, as the latter two compete fiercely for political and economic influence on the island through investments in infrastructure. Relations with Pakistan will improve owing to growing links with that country under China's Belt and Road Initiative.
The government will make progress on implementing IMF-mandated economic reforms and narrowing the budget deficit in the early part of the forecast period. However, the process of fiscal consolidation will halt after the IMF programme ends in 2019.
The Central Bank of Sri Lanka (CBSL) will raise policy interest rates in 2019 as economic growth strengthens. In line with our expectation of a technical recession in the US in 2020, which will hurt the island's export sector, the CBSL will assume a more accommodative monetary policy stance in that year, before resuming tightening in 2021.
Real GDP will rise by 4.7% a year on average in 2018-22. The rate of economic expansion will accelerate significantly in the second half of the forecast period as government efforts to boost exports pay off and as the authorities put the brakes on fiscal consolidation.
The country's heavy dependence on imports for its fuel and infrastructure development needs will keep the trade deficit wide in 2018-22. This will ensure that the current account posts shortfalls averaging 3.9% of GDP in the period.