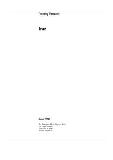 Country Forecast Iran June 2018 Updater
June 2018 •
Report ID: 1697387 •
Format: PDF


The Economist Intelligence Unit expects efforts at economic liberalisation and social reform by the moderately reformist president, Hassan Rouhani, to be blocked by hardliners. This has been exacerbated by the US president, Donald Trump's decision to withdraw the US from the 2015 nuclear deal. Mr Trump's decision will undermine Mr Rouhani-who was a key advocate of the nuclear deal. The issue of choosing a successor to the supreme leader, Ayatollah Ali Khamenei, will also loom larger in 2018-22.
Despite the US move, we still expect the nuclear deal to remain in place early in the forecast period, with all other parties committed to maintaining it and the European partners likely to promise some non-US dollar denominated trade and investment financing to Iran. However, the vast majority of European companies will not risk business ties with Iran, given renewed US sanctions. As a result, the medium-term outlook for the deal is not good, with it likely to become increasingly meaningless and thus unlikely to last until 2022.
Youth unemployment, which is already at over 25%, will continue to rise in 2018-22, with the government unable to create jobs at a fast enough pace to match the estimated 1m graduates entering the workforce every year. This will exacerbate the already tense social situation, leading to intermittent protests.
We expect oil exports to be curtailed by around 400,000 barrels/day (b/d) in 2019/20-2020/21 as a result of US secondary sanctions. This, combined with worsening investor and consumer sentiment, will drive the economy into recession in those years, with an average contraction of 1.9%. Thereafter, rising investment from countries such as China and India is expected to see growth return modestly to positive territory.
Efforts by the central bank to unify the official and unofficial exchange rates in April will ultimately fail in light of the US's pull-out from the nuclear deal. The uncertainty caused by re-imposed sanctions, as well as declining oil export volumes and some withdrawal of investment, are likely to see demand for foreign exchange remain above the central bank's capacity for provision. A significant gap between the official and black-market rates will therefore remain throughout 2018-22.
Given a rapidly depreciating currency and increasingly difficult restrictions on trade, inflation is likely to pick up from an average of 10% in 2017 to an average of 12.4% in the forecast period.