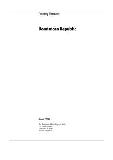 Country Forecast Dominican Republic June 2018 Updater
June 2018 •
Report ID: 1697434 •
Format: PDF


The president, Danilo Medina of the Partido de la Liberación Dominicana (PLD), will benefit from the PLD's control of Congress until his term ends in August 2020. The Partido Revolucionario Moderno will be the main opposition force during the forecast period. The party's candidate in 2016, Luis Abinader, is likely to run again in 2020, but his prospects of winning are slim.
Mr Medina will pursue policies to upgrade the education system, alleviate poverty, support farmers, and help small and medium-sized enterprises. Much-needed electricity and labour reforms will also be part of the agenda, but major changes are unlikely to materialise in the medium term. Corruption will become an ever-greater public concern, and will remain a problem, with a damaging effect on the business climate.
The fiscal deficit will widen in 2018-20, owing to expansionary policies and pre-election expenditure. It will be reined in thereafter. The fiscal deficit and the debt burden will remain manageable throughout the forecast period, and new financing will be accessible, although more costly.
GDP growth will slow in 2019-22, bottoming out at 3% in 2020 owing to a recession in the US. Growth will pick up to an average of 3.8% in 2021-22. Inflation will rise from 3.3% in 2017 to an average of 4% in 2018-22 as the peso weakens at a steady crawl.
From 2.2% of GDP in 2018 the current-account deficit will widen to 4.2% of GDP in 2022, owing to worsening terms of trade and rising import demand. Inflows from mineral exports, tourism and remittances will be strong, but debt interest payments will also grow. Foreign direct investment will average 3.1% of GDP in 2018-22, sufficient to cover most of the current-account deficit.
Government social spending and workers' remittances will bolster consumer demand and household consumption. The population is relatively young, and the old-age dependency ratio will remain low. However, high rates of poverty and inequality will restrict broader market opportunities.
The business climate will be suboptimal, reflecting infrastructure deficiencies and low skill levels. Roads are improving, but energy supply problems will affect business until structural reforms to the sector are introduced. Foreign investment will be drawn mainly into tourism, real estate, energy, commerce and communications.