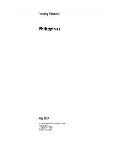 Country Forecast Philippines July 2018
July 2018 •
Report ID: 1697614 •
Format: PDF
Policy towards private enterprise and competition
2018-19: The president, Rodrigo Duterte, continues to depend on technocrats to lead business policy, encouraging investors by providing some policy continuity..
2020-22: The administration oversees the privatisation of small state holdings and an easing of foreign-investment rules.
Policy towards foreign investment
2018-19: The government takes steps to relax the negative investment list. Preferential treatment of companies from China, in particular, cannot be discounted, as the president remains keen to solicit funds from the mainland.
2020-22: The administration seeks legislative approval to alter the constitution in order to relax restrictions on foreign ownership more decisively. However, foreign direct investment remains low compared with regional peers.
Foreign trade and exchange controls
2018-19: ASEAN's trade and investment agreements with Hong Kong come into effect.
2020-22: The Department of Finance proceeds to repeal tariffs, but Philippine agricultural producers are subject to protectionism. Negotiations on a free-trade agreement with the EU continue, won't be completed in the forecast period.
Taxes
2018-19: Mr Duterte's first tax reform package reduces the burden on low- to-middle income earners while raising a host of indirect taxes. His second package, which focuses on corporate taxes, is passed by Congress (the legislature).
2020-22: The administration faces public pressure to follow through on sweeping anti-corruption rhetoric by demonstrating stronger revenue growth from lower tax avoidance and evasion.
Financing
2018-19: The Bangko Sentral ng Pilipinas (the central bank) continues to strengthen financial regulations, but limited efforts are made to ease the Bank Secrecy Law. The Overseas Filipino Bank helps to channel more remittances at a lower cost.
2020-22: The trend of bank consolidation and mergers intensifies as local lenders seek to position themselves better.
The labour market
2018-19: English-language skills are maintained at a good standard, supporting the business-process outsourcing industry. Contract outsourcing continues despite efforts by the administration to act against the practice.
2020-22: High-school graduates' skills make them suitable for immediate semi-skilled employment. Greater demand for skilled engineers and construction workers for infrastructure projects elevates the likelihood of wage inflation.
Infrastructure
2018-19: Infrastructure construction is led by transport projects. The number of feasibility studies for planned projects rises. The government expedites financing by preferring to use official development assistance loans.
2020-22: The administration continues to push for private investment in infrastructure development. Several new energy projects come online, mostly coal-fired power plants. Local governments open new schools and healthcare facilities.
Technological readiness
2018-19: Policies will be enacted to further encourage the use of mobile payments systems.
2020-22: Internet broadband infrastructure will become more reliable in Manila, and will be extended to rural areas.