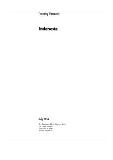 Country Forecast Indonesia July 2018 Updater
July 2018 •
Report ID: 1697692 •
Format: PDF


The president, Joko Widodo (known as Jokowi), will complete his full five-year term in office and will contest the 2019 election. He will be challenged by Prabowo Subianto, the leader of the opposition Great Indonesia Movement Party (Gerindra) in the House of Representatives (DPR, the legislature), who lost to Jokowi in the 2014 ballot. The Economist Intelligence Unit's central forecast is that Jokowi will prevail at the 2019 elections.
Ahead of the elections, fiscal policy will be focused on supporting the economy. This includes raising energy subsidies in order to cap domestic fuel and electricity prices, which would in turn control inflation and thereby support private consumption. This will make it difficult for the government to balance its budget in the early part of the forecast period. There will be a slight narrowing in the fiscal deficit in 2021-22, when the economy will recover of its own accord.
Bank Indonesia (BI, the central bank) will tighten monetary policy through-out 2018-19. A technical recession in the US in 2020, when we expect the Federal Reserve (the US central bank) to stop raising interest rates, will lead to a year of neutral monetary policy in Indonesia. Incremental tightening will resume in 2021-22 as inflationary pressures build up on the back of firmer oil prices.
The local currency, the rupiah, will face depreciatory pressures in the early part of the forecast period, owing to a narrowing in Indonesia's interest-rate differential with the US, as well as rising trade tensions between the US and China. However, the depreciation will be gradual in 2018-20 owing to intervention by BI. The currency will return to a modestly appreciating trend in 2021-22 as global economic fundamentals improve.
Economic growth will remain below potential, owing to the slow pace of structural reforms and subdued global demand growth for commodities, but the government's infrastructure drive should help to keep investment growth relatively stable. We forecast that real GDP growth will average 5.1% a year in 2018-22.
The current account will remain in the red owing to a large and widening primary income deficit. We expect external borrowing costs to increase in line with monetary policy tightening in the US. The merchandise trade account will stay in the black, but the surplus will remain too small to offset the deficits on the services and primary income accounts. We forecast that the current-account shortfall will be equivalent to 2.4% of GDP on average in 2018-22.