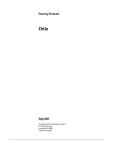 Country Forecast Chile July 2018 Updater
July 2018 •
Report ID: 1697873 •
Format: PDF


The president, Sebastián Piñera of the centre-right Chile Vamos (CV) coalition, will face a fragmented legislature in which no coalition holds a majority, which will complicate policymaking. The Economist Intelligence Unit expects Mr Piñera to focus on efficiency gains and improvement of the business climate. He will seek to tweak rather than undo the reforms to education, labour and taxes introduced by his predecessor, Michelle Bachelet (2014-18).
As no coalition holds a majority, policymaking under the centre-right CV will be pulled towards the centre. The government will therefore need to address social concerns, particularly regarding access to free education and more equitable pensions. Ongoing invest-ment in infra-structure and education will lay a foundation for firmer long-term growth.
GDP growth will accelerate from 1.6% in 2017 to 3.7% in 2018, largely driven by stronger private consumption and a return to investment growth following four years of contraction. A business-cycle recession in the US in 2020 will temporarily slow Chile's growth that year, but acceleration is likely in 2021-22 as external conditions improve.
Barring supply-side shocks, inflation will remain within the 2-4% target set by the Banco Central de Chile (the central bank) in 2018-22. The fiscal deficit will narrow throughout the forecast period. Following loosening in 2017, monetary policy will resume a tightening trend late in early 2019 as economic performance improves. Rises in copper prices will narrow the current-account deficit by 2022.
Market opportunities are constrained by Chile's small population (an estimated 18.1m in 2017), but high income levels (bolstered by real wage gains and low inflation) will support growth in consumer expenditure, even as unemployment rates remain relatively high. Political stability and good economic management will continue to attract high levels of foreign investment.
Chile's business environment will remain the highest-ranked regionally. The positive effect of reforms to education, energy and infrastructure will begin to be felt later in the forecast period, although some deficiencies will persist. A drive towards renewable energy generation will yield significant progress.