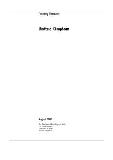 Country Forecast United Kingdom August 2018 Updater
August 2018 •
Report ID: 1698057 •
Format: PDF


Following a snap general election in June 2017, in which the Conservative Party lost its parliamentary majority, the prime minister, Theresa May, formed a minority government based on a "confidence and supply" agreement with the Democratic Unionist Party (DUP) of Northern Ireland. The Economist Intelligence Unit does not expect the government to last a full five-year term; Mrs May's authority has been weakened, and her government will face domestic and external challenges during the Brexit process.
Mrs May will continue to face difficulties in reconciling opposing factions in her cabinet, who have different views about negotiating the UK's future relationship with the EU. A major milestone came in March, when EU leaders approved the terms of the transition period, which will last for 21 months after the UK leaves the EU in March 2019. However, divisions in the cabinet and on the Conservative backbenches over Brexit are likely to persist in 2018-19.
Completing the agreement on the terms of the UK's withdrawal will take priority in 2018, but talks on the future trading relationship will also begin. The government has published a plan for an "association agreement" with the UK that would involve a free-trade area for goods and require a "common rulebook" to avoid customs and regulatory checks. The plan is subject to negotiation with the EU, but is likely either to lead to the UK accepting a "softer" Brexit than Mrs May initially said that she would pursue, or a snap election that could well install a pro-Brexit government that pursues a tougher line in negotiations. We expect the UK to reach a trade agreement with the EU by 2021.
The economy has been resilient in the wake of the Brexit vote, growing by 1.8% in 2016 and 1.7% in 2017, but is likely to lose further momentum in 2018-19 as rising inflation and uncertainty about the Brexit negotiations dampen domestic demand. We forecast average annual real GDP growth of 1.5% in 2018-19, picking up to an average of 1.7% per year in 2020-22.
The government's budget deficit narrowed from 4.2% of GDP in 2015 to 1.9% of GDP in 2017. We expect a further gradual contraction in the 2018-22 forecast period, with the deficit reaching 1% of GDP in 2022. The Bank of England (the central bank) has started to raise interest rates again after doing so in November 2017 for the first time in a decade. The main policy rate was raised to 0.75% in August, and we expect the next increase in the second quarter of 2019.