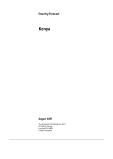 Country Forecast Kenya August 2017 Updater
August 2017 •
Report ID: 1698101 •
Format: PDF


With the next presidential and legislative elections due on August 8th 2017, political tensions will remain elevated, posing a heightened risk of violence. The Economist Intelligence Unit expects the president, Uhuru Kenyatta, to secure a second and final five-year term, although the formation of a new opposition alliance heralds a closer contest than in 2013.
The risk of the election being delayed, which would have sparked a constitutional crisis, has now receded, after the Appeal Court reinstated the ballot printing contract for the presidential election that had been revoked by the High Court. The verdict boosts the Independent Electoral and Boundaries Commission and means that most disputes about electoral laws and processes have now been resolved.
The two other main threats to stability are security risks associated with terrorism and ethnic rivalries, and institutional turf wars arising from reforms embodied in the new constitution. Stronger checks and balances and the devolution of authority to 47 new counties may boost accountability over time, but the shift is fuelling power struggles between and within the various arms of government, at both national and local level, to the detriment of governance.
We expect real GDP growth to dip to 5.5% in 2017, because of dry weather, slower credit growth, electoral tensions and global uncertainty. However, growth will remain robust, and will quicken to 6.1% in 2018 (before easing), driven by higher public and private investment, and stronger household demand.
Surging food prices in the first half of 2017, despite a retreat in July, support our annual average inflation forecast of 9.5%, its highest level since 2011. Inflation for 2018-21 will be lower, helped by prudent monetary policy (barring shocks such as drought and serious post-election violence).
Kenya's business environment will become more accommodating in 2017-21, underpinned by pro-market reforms such as deregulation, the formation of public-private partnerships and trade liberalisation. However, structural deficiencies, including infrastructure bottlenecks and skills shortages, will persist.
Brisk population and income growth, combined with urbanisation, invest-ment in infrastructure and regional integration, will create a range of new market opportunities.
Rising disposable income per head will fuel demand for retailing (including groceries and durable goods)-creating new openings for manufacturers and importers-and for a wide array of services, such as telecommunications, banking, insurance, health and recreation.