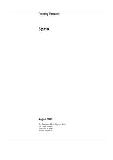 Country Forecast Spain August 2018 Updater
August 2018 •
Report ID: 1698186 •
Format: PDF


On June 1st Pedro Sánchez, the leader of the centre-left Spanish Socialist Workers' Party (PSOE), became prime minister through a censure motion, unseating Mariano Rajoy, the leader of the former minority government of the conservative People's Party (PP). The new PSOE government has a minority of just 84 of 350 deputies in the Congress of Deputies (the lower house). The Economist Intelligence Unit expects a new election to be held before the end of the parliamentary term, in mid-2020, possibly as soon as 2019.
A fundamental part of Mr Sánchez's mandate will be to ease tensions in Catalonia, which staged an illegal referendum and declared independence unilaterally in October 2017, triggering a severe confrontation with the national government. Relations with the separatist regional government may become more productive in the near term, but we nonetheless expect a prolonged period of political wrangling.
Other challenges will be implementing a coherent set of policies despite the government's numerical weakness and managing an influx of migrant arrivals by sea, as the hardline stance on migration of the Italian government has reduced the attractiveness of the Central Mediterranean route to Europe.
Following budget deficits of 4.5% of GDP in 2016 and 3.1% of GDP in 2017, we expect the shortfall to contract to 2.7% of GDP this year. The deficit will then shrink to an average of 1.6% in 2019-22. Public debt is expected to fall to about 87% of GDP by the end of our forecast period.
Economic reforms in 2011-15-including substantial modifications to labour regulations, pensions and the tax code-have improved the business environment. The PSOE government is unlikely to reverse these reforms, but does not have sufficient support to restart the reform drive.
Following an expansion of 3.3% in 2016 and 3% last year, we forecast real GDP growth of 2.7% this year and an average of 2% in 2019-22.
After a current-account surplus of 1.9% of GDP in 2017, we expect the surplus to average 1.3% in 2018-22, buoyed by respectable export performance, even as the country's import bill rises.