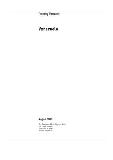 Country Forecast Venezuela August 2018 Updater
August 2018 •
Report ID: 1698228 •
Format: PDF


Economic collapse and the erosion of the patronage scheme supporting the president, Nicolás Maduro, put the ruling regime's internal cohesion in jeopardy. The Economist Intelligence Unit expects a traumatic rift that will end in regime pragmatists allowing opposition participation in a "mixed admin-istration" as a way to remain in power from 2019 onwards. There is a risk that the existing regime will retain cohesion and cling to power beyond 2019 if it finds financing to meet its debt obligations and boost dwindling oil production.
We estimate that inflation exceeded 2,000% at the end of 2017 and will average over 10,000% in 2018. GDP will continue to contract in 2018-20. High inflation has led to a collapse in private consumption, and difficult operating conditions have hurt investment. Following a change in policy under a new government, we expect economic growth to resume in 2021.
The business environment is among the weakest in the world, reflecting outright hostility from the government towards the private sector as well as critical shortages of inputs needed to maintain productive capacity. From 2019 a new government will stabilise the economy, but the wholesale rethink of the institutional framework needed to restore investment and confidence is unlikely.
Worsening shortages of consumer goods and hyperinflation will hit private consumption, and an increasingly difficult operating environment will accentuate a fall in fixed investment. The recession that began in 2014 will continue to deepen despite a partial recovery in oil prices as oil output slumps, and the economy will not return to growth until 2021-assuming that a new government takes power and implements reforms. However, these reforms will take time to bear fruit, reinforcing our forecasts of only a weak recovery.
US dollar measurements of Venezuela's market size provide an overly positive picture of the economy, given the marked overvaluation of the fixed exchange rate. In reality, recession and extremely high inflation (driven by shortages of foreign exchange and basic goods) will continue to restrict purchasing power. After 2020, under a new government, we expect purchasing power and the business environment to improve.