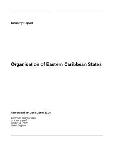 Country Report Organisation of Eastern Caribbean States 2nd Quarter 2018
June 2018 •
Report ID: 1698486 •
Format: PDF
Outlook for 2018-19


The members of the Organisation of Eastern Caribbean States (OECS) will continue to enjoy broad political stability in 2018-19.
A recovery in economic activity will gather strength, supported by improved growth in the US, the main source of tourism demand for the region.
GDP growth will continue to be hindered by weak public finances and high levels of public debt, which will crowd out private investment.
OECS governments will continue to pursue fiscal consolidation, through commitments made under IMF programmes or to the UK government.
The 2018 hurricane season is beginning with many countries still recovering from the damage created by last year's harsh hurricane season.


Review


The UK government approved Anguilla's 2018 budget. The introduction of new taxes will be limited, although the government will undertake a number of structural reforms.
The prime minister of Antigua and Barbuda, Gaston Browne, was forced to remove the trade minister from the cabinet, owing to allegations that he received bribes.
Roosevelt Skerrit, the prime minister of Dominica, has announced that the rebuilding efforts-the island was struck by Hurricane Maria in September-are advancing at a considerable pace.
Grenada will hold a second referendum by year-end regarding the country's membership of the Caribbean Court of Justice.
Montserrat is set to return to the UN list of Non-Self-Governing Territories, as this would pressure the UK into providing greater economic assistance.
The St Kitts and Nevis government announced a number of fiscal stimulus measures that will be financed by an increase in revenue from the territory's Citizenship by Investment programme.
The government of St Lucia announced a multi-year programme to upgrade the country's infrastructure, which is expected to increase productivity and enhance competitiveness.
The St Vincent and the Grenadines government unveiled the creation of a new US$3 per room per night levy that will apply to hotel stays. Proceeds from the levy will finance a climate-change contingency fund.