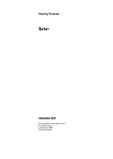 Country Forecast Qatar September 2017 Updater
September 2017 •
Report ID: 1698497 •
Format: PDF


The position of the emir will be weakened in 2017-20 by the boycott of Qatar by four of its Arab neighbours. The risks may also be relevant to the remainder of the forecast period if the boycott affects the welfare of Qatari citizens-which could ignite some domestic opposition to his rule.
Qatar will continue to maintain a network of controversial and contradictory relationships in the Middle East region that will spill over into ongoing diplomatic frictions. Deep mutual distrust between Qatar and its neighbours means that it is unlikely to downgrade ties with regional military powers (Turkey and Iran), or fully abandon its Islamist allies.
Any future deal between Qatar and the four boycotting countries is likely to involve Qatar agreeing to reform the pro-Islamist slant of al-Jazeera Arabic (while keeping the news channel on air), expelling foreign Islamists or restricting their political activities, and providing assurances that defence ties with Iran are non-threatening. Equally, the boycotters will be pressed by Qatar and Western mediators to provide assurances that similar boycott action will not recur. The Economist Intelligence Unit expects a positive discussion between both parties to the conflict to take place towards the end of the forecast period.
Despite mounting criticism of Qatar's human rights record, and critical media coverage of foreign worker mistreatment, we expect the 2022 football World Cup to go ahead in Qatar. However, the success of the event will be undermined by negative media coverage and, potentially, low turnout of fans.
The government will seek to shield Qatari citizens from economic pain precipitated by the boycott by ramping up current spending (possibly at the expense of capital expenditure). This will slow the pace of fiscal consolidation in 2017-although we still expect some reduction in the deficit. Later in the forecast period, plans to reduce current spending will be implemented to allow rising capital expenditure. Such discipline will just be sufficient to offset the impact of high capital spending ahead of the World Cup. We therefore forecast that the fiscal deficit will narrow to an annual average of 7.7% of GDP in 2017-21.
Qatar will come under increasing pressure to depart from oil indexation and long-term contracts, as major importers of liquefied natural gas (LNG) will be able to choose from a wider range of suppliers.
The current account will remain in deficit throughout the forecast period as oil prices fail to recover to historically high levels. The deficit will narrow as global oil prices pick up slightly later in the forecast period.