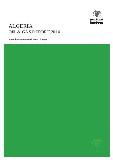 The Algeria Oil & Gas report 2014
January 2014 •
26 pages •
Report ID: 2041801 •
Format: PDF
Algeria Oil & Gas Report 2014 from Investment & Research (I&R) a comprehensive overview of the Algeria oil & gas sector. The report gives five year forecasts of Algeria production and consumption of crude oil, petroleum products, and natural gas from 2014. It analyses and forecasts each of the oil and gas segments in Algeria including upstream sector, pipeline, refinery, LNG and storage sectors. It also identifies the key challenges, drivers and restraints in the country's oil and gas industry.
Discover the latest market trends and uncover sources of future market growth for the Oil & Gas industry in Algeria, find hidden opportunities in the most current research data available, understand competitive threats with our detailed market analysis, and plan your corporate strategy with our expert qualitative analysis and growth projections.

If you're in the Oil & Gas industry in Algeria, our research will save you time and money while empowering you to make informed, profitable decisions through;
• 26 pages of comprehensive analysis
• 14 tables, charts, and graphs quantifying the market in detail
• The Algeria Oil & Gas market forecasts between 2013 and 2019
• Five year forecasts for the Algeria Oil & Gas, including:
- Production
- Consumption
- Exports
- Imports
- Refining Capacity
• Algeria Oil & Gas SWOT analysis, project tables for each commodity, production and consumption, of each, competitive landscape outlook, detailing major players in the sector.
• 7 key companies identified and profiled, including 2014 market segment, market share information and latest information.
Why buy this report?
• Gain competitive intelligence about market leaders
• Track key industry trends, opportunities and threats
• Inform your marketing, brand, strategy and market development, sales and supply functions

You can order this report today and Gain an understanding of how to tap into the potential of this market by ordering Algeria Oil & Gas Market Report 2014.