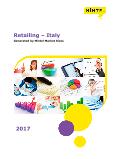 Retailing in Italy (2017) – Market Sizes
January 2018 •
Report ID: 2522887 •
Format: PDF
Retailing in Italy by Mintel Market Sizes provides you with annual year-end market size data, most recently updated in 2017.

This market covers sales to consumers through all retailers including direct from suppliers. Market value is at total sales including sales tax via stores and directly.

Market size for Retailing in Italy is given in EUR with a minimum of five years' historical data. Market Forecast is provided for five years. Included with this snapshot is socio-economic data for Italy. Population, Consumer Price Index (CPI), Gross Domestic Product (GDP), Exchange Rates.