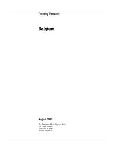 Country Forecast Belgium August 2018 Updater
August 2018 •
Report ID: 2552029 •
Format: PDF


The four-party centre-right government that took office in October 2014 is dominated by Flemish parties and, for the first time, includes the separatist New-Flemish Alliance (N-VA). The government's fiscal consolidation and reform agenda will continue to cause conflict between the coalition partners, but The Economist Intelligence Unit expects the coalition to remain broadly stable and effective, and to serve its full term to 2019. We do not expect a fundamental change to the political landscape as a result of the election next year.
We expect Belgium to remain a single state, at least in the medium term. The N-VA agreed to pursue economic reform rather than devolution when it joined the government, and its campaign platform for the 2019 election is focused on security and identity, rather than Flemish autonomy.
Government wage-moderation measures in 2013-16 and a modest shift in the tax burden from labour to consumption last year have improved Belgium's competitiveness vis-à-vis its regional peers. However, poor productivity trends in some sectors will hold back longer-term growth rates, as will population ageing, with the working-age population expected to decline from 2021.
We expect continued modest budget deficits, following an improvement to a 1% of GDP deficit in 2017. The public debt ratio will remain elevated compared with regional peers, but will fall gradually, to just above 95% of GDP in 2022.
After real GDP growth of 1.7% in 2017, we expect a slight slowdown in 2018, to 1.5%, with domestic demand the main driver of growth. In 2019-22 we forecast average annual growth of 1.3% as the economy slows towards its long-term trend growth rate and the external environment provides less of a boost to growth than in 2017-18.
Annual consumer price inflation (EU harmonised measure) averaged 2.2% in 2017. We forecast only a modest slowdown to 2.1% price growth in 2018, as an electricity tax introduced in 2015 is phased out, but the impact of this will be largely negated by rising global oil prices. We expect 1.9% average annual inflation in 2019-22, bringing price growth closer to the euro zone average.
The current account will record small deficits in 2018-22. Although competitiveness will recover, rising consumer imports and higher oil prices will keep the trade balance in deficit. The services surplus will be insufficient to make up for the trade deficits and persistent secondary income deficits.