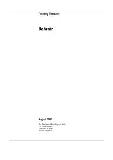 Country Forecast Bahrain August 2018 Updater
August 2018 •
Report ID: 2556894 •
Format: PDF


The ruling Al Khalifa family will remain in power throughout the forecast period, supported by its Gulf allies, namely the UAE and Saudi Arabia. However, the kingdom will face persistent social unrest, exacerbated by the resolute stance of the government against dissent. Sectarian tensions between the Shia majority and the ruling Sunnis will persist, heightened by a mistrust of Shia Iran, which the regime considers a threat.
The Economist Intelligence Unit expects relations between Bahrain and Qatar to remain tense over the forecast period (2018-22) as Bahrain continues to take an aggressive stance against Qatar. Saudi Arabia is Bahrain's key Gulf backer, and any domestic unrest and economic uncertainty could oblige Bahrain to call on Saudi Arabia for increased support at some point in 2018-22.
As public-sector hiring slows and unemployment rises, the government will step up efforts to narrow the cost gap between expatriates and locals in the private sector by taking a tougher stance on enforcing "Bahrainisation" quotas. However, these efforts will be constrained by Bahrain's heavy dependence on foreign labour, as well as recurrent fiscal shortfalls.
Bahrain will maintain an open attitude towards foreign investment, allowing 100% foreign ownership of firms in the country, albeit only in certain sectors. However, its position as a regional financial centre-relative to Dubai, in particular-will weaken over the forecast period. It will seek to provide best-practice regulation in its financial services sector and attract private investment in infrastructure, in an attempt to remain competitive with its Gulf Co-operation Council peers.
We forecast that real GDP growth will slow down in 2018, despite a relatively strong recovery in oil prices, owing to the reining-in of capital spending by the government as well as the delayed impact of the OPEC oil production cuts in which Bahrain is participating. However, growth will pick up as the forecast period progresses, in line with an increase in Bahrain's aluminium and refined oil capacity.
The current account will remain in deficit throughout the forecast period. However, increasing export earnings due to a rise in oil prices, in addition to a pick-up in aluminium and refined oil exports in the latter years of the forecast period, will lead to a narrowing of the shortfall to 1.4% of GDP in 2022, from 4.5% of GDP in 2017.