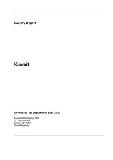 Country Report Kuwait September 2017
September 2017 •
Report ID: 2557196 •
Format: PDF
Outlook for 2017-21


The emir, Sheikh Sabah al-Ahmad al-Jaber al-Sabah, will remain the ultimate political authority, although in the face of regional security threats the regime will become increasingly intolerant of public dissent.
Tensions between the executive and the legislature are likely to rise, reflecting divergent views on public spending priorities, hindering the implementation of the government's US$150bn project pipeline.
The fiscal account will remain in deficit in 2017-21. However, a modest recovery in oil prices will see the deficit narrow from 7.2% of GDP in 2017/18 (April-March) to 4.2% of GDP in 2021/22.
Real GDP is expected to fall by 1.2% in 2017, on the back of lower oil output and slower investment growth. Growth will recover in 2018 to 1.3%, and pick up to an annual average of 3.4% in 2019-21, reflecting higher oil output.
We expect inflation to average around 3% in 2017-21, on the back of some subsidy reform and gradually rising domestic demand growth.
We expect the current account to return to surplus in 2017 (6.1% of GDP), but still low oil prices in the medium term will prevent a further significant rise back to double-digit levels during 2018-21.


Review


The Civil Service Commission, a government agency that regulates employment in the public sector, has announced a decision to raise the replacement quota for Kuwaiti nationals in the public-sector workforce to 100% in five functional groups within five years.
The state-owned Kuwait Oil Company (KOC) has awarded an engineering, procurement, construction and commissioning contract to an Italian engineering company, Saipem, to build 450-km feed pipelines for the Al Zour refinery project.
As part of efforts to increase its renewable-energy generation to 30% of the total by 2030, Kuwait is preparing to issue a tender for the 1-GW Al Dibdibah photovoltaic (PV) solar power plant in the first quarter of 2018.
Annual inflation came in at 1.26% in July, down from 1.4% in June. This was mainly explained by deflation of 2.26% in housing services, showcasing the softness that has been visible in the housing market over the past few years.