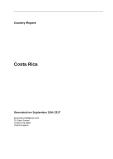 Country Report Costa Rica September 2017
September 2017 •
Report ID: 2557267 •
Format: PDF
Outlook for 2017-21


The president, Luis Guillermo Solís of the Partido Acción Ciudadana, will maintain generally pro-business policies that will also have a strong social focus during the remainder of his term, which ends in May 2018.
Presidential elections will be held in February 2018. The Economist Intelligence Unit expects the Partido Liberación Nacional to win in a second-round presidential vote.
Following real GDP growth of 4.3% in 2016, we expect annual average growth of 4.1% in 2017-21, supported by solid private investment. However, levels of unemployment and inequality will remain high.
The next government will approve watered down fiscal reforms, after obtaining support from the legislature. Gradual consolidation will narrow the fiscal deficit to 3.5% of GDP in 2021, but the public debt/GDP ratio will rise.
We expect consumer price inflation to reach 2.6% at end-2017. Demand-side pressures, combined with the impact of currency depreciation, will push up inflation to an annual average 4% in 2018-21.
Following recent large-scale depreciation of the colón, we expect the pace of future weakening to be more measured. However, the currency's slide is forecast to continue, ending 2021 at C623.2:US$1.
After narrowing to 3.6% of GDP in 2016, the current-account deficit will widen modestly in 2017-20, as oil prices stabilise and imports of goods rise, before a narrowing to around 4% of GDP in 2021.


Review


On August 14th the OECD Committee for Scientific and Technological Policy approved Costa Rica's practices. This marks the fifth committee approval; 22 are required for OECD accession.
The Constitutional Chamber overruled an earlier decision from the Supreme Court that delayed the progression of reforms meant to address the actuarial deficit of the judiciary's pension system.
Inflation came in at 0.9% in August, its second-lowest level so far in 2017, owing to subdued international oil and commodity prices. In monthly terms, prices fell by 0.2%.
Monthly economic activity increased by 4.4% year on year in June, up from 4.1% in May, after significant monthly expansion in sectors such as information and communications, and manufacturing.