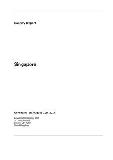 Country Report Singapore August 2017
August 2017 •
Report ID: 265663 •
Format: PDF
Outlook for 2017-21


The People's Action Party (PAP) will choreograph a leadership succession over the forecast period. The process is expected to be completed before the next legislative election, which is due by 2021.
The government will continue to intervene to guide the development of industry, including schemes to encourage smaller firms to expand overseas and innovate.
The Economist Intelligence Unit expects the Monetary Authority of Singapore (MAS, the central bank) to maintain a loose monetary policy stance in 2017-19, before it looks to "normalise" its policy settings from 2020.
On the back of healthier external demand conditions, we expect real GDP to grow by 2.9% in 2017, before decelerating to 2.1% per year on average in 2018-21 owing to economic slowdowns in China and the US in this period.
Consumer price inflation will make a modest comeback in 2017. Rising global prices for oil and industrial products will support prices (albeit unevenly), which will increase by an average annual rate of 1.2% in 2017-21.
Despite softer export growth in 2018-19, Singapore will continue to run a hefty current-account surplus, equivalent to 17% of GDP in 2021. The services, primary and secondary income accounts will remain in deficit.


Review


On August 6th Halimah Yacob announced her candidacy to the presidential election due by September 2017. She is the leading contender for the race.
On July 18th-19th Singapore's defence minister, Ng Eng Hen, visited the Philippines, holding talks with his counterpart, the Philippine secretary of national defence, Delfin Lorenzana.
On August 2nd-3rd Hong Kong's new chief executive, Carrie Lam, visited Singapore in what was the first visit by a Hong Kong chief executive to Singapore for nine years.
On July 26th, according to data published by the Department of Statistics (DoS), manufacturing output was up by 13.1% year on year in June. Excluding the volatile biomedical manufacturing sector, output was up by 11.9%.
On July 24th the DoS published data showing that the rate of consumer price inflation had slowed to 0.5% year on year in June, from 1.4% in May.
On July 17th the DoS published external trade data showing that non-oil domestic exports were up by 8.2% year on year in June, to S$14.5bn (US$10.4bn), supported by the performance of both electronic and non-electronic exports.