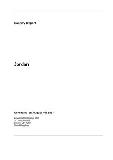 Country Report Jordan August 2017
August 2017 •
Report ID: 265698 •
Format: PDF
Outlook for 2017-21


The Economist Intelligence Unit expects power to remain firmly in the hands of King Abdullah II, who will maintain tight control over Jordan's political direction and retain the support of the security services.
The government will allow moderate dissent and provide limited space for the mainstream opposition, including some Islamist groups, but will struggle to balance criticism from conservatives with the king's modernising stance.
Jordan's key strategic position and anti-jihadi stance will see it attract financial and military support and investment from the West and Gulf Arab states, but it will prove challenging to balance interests amid growing regional rivalries.
The government, supported by the IMF, will continue with fiscal consoli-dation while also attempting to introduce growth-promoting policies, but it will be mindful of a political backlash. The fiscal deficit will shrink slowly.
Real GDP growth will be modest, reflecting the impact of ongoing weak domestic and external demand, but will strengthen from a forecast 2.5% in 2017 to 3.5% in 2021, helped by an improvement in export performance.
The current-account deficit will narrow as a proportion of GDP as goods and services exports pick up as regional economies recover.


Review


Preparations are continuing for the holding of regional and local elections on August 15th, the first to be held since the approval of the Decentralisation Law, designed to increase popular participation at a local level.
The installation of metal detectors (since withdrawn) at the entrance to the Temple Mount/Noble Sanctuary in Jerusalem triggered protests, including at the Israeli embassy in Jordan, where the killing by Israeli security guards of two protesters led to a temporary stand-off between Israel and Jordan.
A de-escalation agreement between the US, Russia and Jordan to limit violence in the south-western corner of Syria came into effect on July 9th. Russia is deploying monitors to bolster the truce.
The World Bank and the Central Bank of Jordan have joined forces in a programme to support small and medium-sized enterprises and start-ups.
The economy expanded by 2.2% year on year in the first quarter of 2017, marginally stronger than the 2016 performance, with service and domestic-oriented enterprises performing more strongly than exporters.
The current-account deficit widened in the first quarter of 2017 to JD788m (US$1.1bn; equivalent to 12.1% of GDP) compared with the previous quarter but was significantly lower compared with the first quarter of 2016; inward remittances are rising, but slowly, up by 1.5% year on year in January-May.