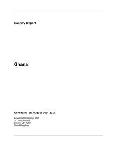 Country Report Ghana August 2017
August 2017 •
Report ID: 270242 •
Format: PDF
Outlook for 2017-21


Ghana's overall political stability is not in question, but the fiercely contested political landscape will cause significant tension between the ruling New Patriotic Party (NPP) and the opposition National Democratic Congress.
The NPP came to power in early 2017, pledging an ambitious industrialisation programme. However, these plans will proceed more slowly than planned, given a tight fiscal position and the need to preserve debt sustainability.
Real GDP growth will be boosted to an average of 6.5% a year in 2017-18 by new oil and gas production, and remain robust in 2019-21, averaging 5.4%, on the back of greater power reliability and an improving business environment.
Inflation will decline but remain in double digits into 2018 amid accommodative monetary policy and rising domestic demand. After an election-related uptick in 2020, inflation will ease in 2021.
The cedi will remain prone to periods of volatility, given a dependence on commodity exports for hard-currency earnings and changing trends in investor sentiment to emerging markets.
The current-account deficit will narrow as a proportion of GDP throughout 2017-21 as new oil output comes on stream. However, rising profit remittances and strengthening import demand will prevent a move into surplus.


Review


Opposition parties and civil society groups have called for corrective action in the face of a claimed breakdown in law and order. The claims are exaggerated, but there has been an increase in politically motivated unrest.
Ghana's vice-president, Mahamudu Bawumia, led a high-profile delegation for a week's visit to China in late June. On their return Ghanaian officials claimed to have secured up to US$19bn in Chinese commitments.
The president and the Ministry of Finance have given seemingly contradictory statements over how quickly Ghana can end its current extended credit facility (ECF) with the IMF.
The Bank of Ghana (BoG, the central bank) has cuts its policy rate by 150 basis points, to 21%, as inflation continues to trend downward. However, in the local banking sector non-performing loans are still increasing.
Oil production has commenced from the offshore Sankofa project. Its production capacity of up to 50,000 barrels/day (b/d) has the potential to increase Ghana's total capacity above 200,000 b/d in the coming years.
A fatal mine collapse at the start of July has prompted the government to promise tougher action in the ongoing clampdown against illegal small-scale gold mining.