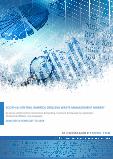 South & Central America Drilling Waste Management Market by Service, by Application, by Country - Analysis and Forecast to 2019
March 2015 •
76 pages •
Report ID: 2841836 •
Format: PDF
The drilling waste management market in South America is estimated to grow at a CAGR of 4.3% from 2014 to 2019. Geographically, South America is segmented into Brazil, Argentina, and Venezuela among others. Argentina holds the highest market share of 25.4% in the South America drilling waste management market, which is significantly followed by Venezuela. Recent practice of eco-friendly drilling, reduction in well cost that is achieved by adopting drilling waste management services, and recognition of synthetic based fluid in drilling fluids are essential factors influencing the growth of this market.

In this report, the South America drilling waste management market is segmented on the basis of service and application. Different applications of this market are onshore and offshore. The stakeholders of the markets are oilfield service companies, drilling waste management equipment manufacturers, and energy associations.

The report has profiled leading players of this market, along with developments (mergers & acquisitions, contracts & agreements, and geographical expansions) conducted by major companies over the past few years, and strategies adopted by them to sustain and strengthen their position in the South American drilling waste management market. Schlumberger Ltd. (U.S.), Halliburton Co. (U.S.), Weatherford International Ltd. (Ireland), and Baker Hughes (U.S.) are some of the key players engaged in this market.

Reasons to Buy the Report:
From an insight perspective, this research report has focused on various levels of analysis—industry analysis, market share analysis of top players, supply chain analysis, and company profiles. The report also lays emphasis on competitive landscape, usage patterns, emerging and high-growth segments of the South America drilling waste management market, high-growth regions and their respective regulatory policies, government initiatives, drivers, restraints, and opportunities.

The report will enrich both established firms as well as new entrants/smaller firms to gauge the pulse of the market. Firms purchasing the report could use any one or combination of the below mentioned five strategies (market penetration, product development/innovation, market development, market diversification, and competitive assessment) for strengthening their market share.

The report provides insights on the following pointers:
- Product Analysis and development: Detailed insights on upcoming technologies, research and development activities, and new product launches in the South & Central America drilling waste management market.
- Market Development: Comprehensive information about emerging markets. The report analyzes the markets for South America drilling waste management across geographies, in addition to gaining insightful knowledge on new distribution channels, and clientele base, and different pricing policies.
- Market Diversification: Exhaustive information about new products, untapped geographies, recent developments, and investments made in the South America drilling waste management market. Detailed description regarding the related and unrelated diversification pertaining to this market.
- Competitive Assessment: In-depth assessment of market shares and company share analysis of key players.
- Product/ Brand Perception Analysis: Comprehensive study of customers perception and behavior through our inbuilt social connect tool (digital marketing language), by checking the virality and tonality of blogs.