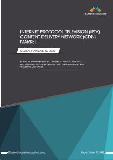 Internet Protocol Television CDN Market by Type , by Service , by End-User - Global Forecast to 2020
May 2015 •
140 pages •
Report ID: 3024650 •
Format: PDF
The market leader's offer differentiated services in the IPTV CDN market. Companies such as Alcatel-Lucent, Ericsson, AT&T, and Akamai Technologies are the top leaders in this market. Nowadays, the companies are concentrating more on the services offerings to differentiate themselves in the competition. The small and medium enterprises cannot afford in-house services for content delivery via IPTV as the cost involved cannot be met by such firms; therefore, they are more inclined towards managed or hosted services. The top players in the market such as AT&T and Alcatel-Lucent prefer in-house content delivery services and the revenue generated by this is solely kept by the company.

The IPTV CDN in-house service market grew from $1,480.3 million in 2015 to $5,509.3 million by 2020, at a CAGR of 30.1% from 2015 to 2020.. The services provider type segment considered in the report consists of Peer-to-Peer (P2P), Free IPTV CDN, Telco, and traditional commercial IPTV CDN. The major market share is taken up by P2P in 2015 for 41.47% followed by traditional commercial IPTV CDN for 27.00%.

The report is expected to help the market leaders and new entrants in this market in the following ways:
- The report segments the IPTV CDN market into products, services, deployments, verticals, and regions and countries. The report provides the closest approximations of the revenue numbers for the overall market and the sub-segments.
- The report will assist the industry leaders to understand the competitors and gain more insights. This will help them sustain their position in the market. The report profiles 10 major players in the market. These profiles include business overview, financial status of five years, products and services, key strategies, and recent developments of the company.
- The report also helps them study the overall market growth. The report provides information and analysis of the key market drivers, restraints, challenges, and opportunities.