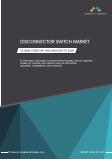 Disconnector Switch Market by Type, Mount, Voltage, Application, and by Region - Global Trends & Forecast to 2020
July 2015 •
151 pages •
Report ID: 3102303 •
Format: PDF
This report estimates the disconnector switch market, in terms of value ($million). The market is estimated at $9,073.23 million in 2015, and is projected to reach $12,661.32 million by 2020. The market has been segmented into major regions, and then further split to country-level forecasting.

The research methodology used in the report involved the use of secondary sources, such as annual reports, press releases, and investor presentations of companies, white papers, and certified publications, articles from recognized authors, manufacturers associations, directories, and databases to identify and collect information that was useful for this extensive commercial study of the global disconnector switch market. Primary sources, such as experts and suppliers from the industry, have been interviewed to obtain and verify critical information, as well as to assess the future prospects of the market.

This study has profiled leading players of the industry, along with their recent developments and other strategic activities. Some of the key companies profiled include Siemens AG (Germany), ABB Ltd. (Switzerland), Schneider Electric SE (France), Eaton Corporation (Ireland), and General Electric Company (U.S.).

Asia-Pacific held the largest market share in the disconnector switch market, and is projected to grow at the highest CAGR. This growth can be attributed to the high urbanization and industrialization in countries, such as China, India, and Japan. China and India are two of the fastest-growing economies around the globe, and are responsible for the growth of the disconnector switch market in the region. The transmission and distribution industry has been expanding in Asia-Pacific, resulting in higher opportunities for the disconnector switch market in the region.

Europe and North America are matured market with already developed transmission and distribution network. The disconnector switch market in these regions is driven by the maintenance and repair activities as opposed to new installations. The up-gradation of transmission & distribution network in North America is a good opportunity for the growth of the market in the region. Germany and the U.K. are the largest contributors to the disconnector switch market in Europe, while the North American market is largely dominated by U.S., followed by Canada. Rest of the world includes South America, the Middle East, and Africa, where Brazil, Saudi Arabia, and Kuwait contributed a major share.

The disconnector switch market has been segmented based on various regions, namely Asia-Pacific, North America, Europe, and Rest of the World. The report also includes an in-depth country-level analysis, based on application; this analysis provides market sizes, by value for various applications considered in the study at country level. Second level application segmentation is provided for major countries, such as the U.S., China, India, Germany, and the U.K.