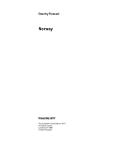 Country Forecast Norway November 2017 Updater
November 2017 •
Report ID: 325720 •
Format: PDF


Norway has a history of coalition government and cross-party consensus that typically delivers a high level of political stability. The constitution does not allow the parliament to be dissolved. The September 2017 general election produced a centre-right majority in parliament. However, the Christian Democrats (KrF) have opted to go into opposition, so another minority government comprised of the Conservatives and the Progress Party will take office. The Liberals will continue to provide some sort of support, but policy-making is likely to become more difficult and protracted.
Since late 2015 the government has significantly tightened immigration and asylum policy, and migrant flows have subsequently declined. Nevertheless, the recent election campaign showed that the electorate remains concerned about the integration of immigrants into Norwegian society. The Economist Intelligence Unit expects the FrP to push for strict immigration policies.
Despite political and economic uncertainty, efforts to strengthen business activity in the mainland economy will continue amid a trend of oil output decline until 2019. A reduction in the headline corporation tax rate is being phased in.
Norges Bank (the central bank) cut its main policy interest rate to a record-low 0.5% in March 2016 amid a subdued economic outlook. Conditions have since improved slightly, and Norges Bank adopted a more hawkish tone, stating that it expected to increase interest rates earlier than previously assumed (in mid-2018 rather than at end-2018) and at a faster pace.
After declining since 2014, we believe that capital spending in the oil sector reached its trough last year, when it contracted by 17.4%. This year petroleum-related investment is likely to remain unchanged from 2016, but we expect it to gradually pick up from 2018. Oil prices will remain broadly flat in the first half of the forecast period (2018-22), and rise in 2021-22.
After registering growth of 1% in 2016, we estimate real GDP growth of 2.1% in 2017, supported by stimulus measures that will underpin household consump-tion and employment. Oil investment will recover gradually from 2018 onwards. Strong krone appreciation throughout 2016 has contributed to a decline in inflation, which is expected to remain below the 2.5% target of Norges Bank in the forecast period. Real GDP is forecast to rise by an average of 2.1% in 2018-22.