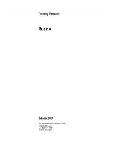 Country Forecast Russia October 2017 Updater
October 2017 •
Report ID: 325738 •
Format: PDF


Formal political opposition will remain marginal. Vladimir Putin, the president will run for president again in March 2018 and win with a large majority in the first round. The principal concern for the authorities will be to maintain a high turnout in the absence of credible alternative candidates.
The government is unlikely to implement disruptive market reforms before the presidential election. Chinese companies are likely to take a bigger role in the economy in the forecast period (2018-22), especially in the far eastern part of the country. However, their access to strategic sectors will be tightly controlled.
A rapprochement between the US and Russia is unlikely in 2017-18 given the intense scrutiny of Russia's alleged interference in the 2016 US presidential election campaign and new US sanctions against Russia. These could derail significant energy projects, such as the Nord Stream 2 gas pipeline to the EU.
Despite a reduction in fighting in Ukraine, The Economist Intelligence Unit does not expect the Minsk II deal to lead to a comprehensive political settlement. Tensions in the Donbas rose in the first half of 2017. Ukraine will not regain full control of its border with Russia in the forecast period.
We expect US and EU sectoral sanctions on the Russian defence, energy and financial sectors to remain in place in 2018-22. Russian sanctions on Western food imports will remain in place indefinitely.
The economy contracted by 0.2% in 2016. We estimate growth of 1.9% in 2017, supported by higher oil prices, improving consumer confidence, and higher investment and household consumption.
Despite pressure to maintain welfare spending, the government will cut public expenditure in 2017-19 to contain the budget deficit. The deficit will narrow to less than 1% of GDP by 2021, from 3.4% of GDP in 2016.
The current account is structurally in surplus owing to oil and gas exports. The current-account surplus amounted to 2% of GDP in 2016. We expect it to reach 2.6% of GDP in 2017, as higher oil prices will boost exports.
The medium-term growth outlook will be constrained by structural weak-nesses including a lack of competition, high state involvement in the economy, an ageing and declining workforce, and weak rule of law. We forecast average annual GDP growth of 1.6% per year in 2018-22.