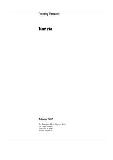 Country Forecast Tunisia October 2017 Updater
October 2017 •
Report ID: 325753 •
Format: PDF


Tunisia will continue to face severe social, security and economic challenges. A fragmented political landscape will mean that ideologically diverse coalition governments are the norm, making agreement over the measures needed to tackle the challenges harder to reach.
Gridlock in government will drive calls from some in the establishment for a more powerful presidency, but this will provoke fierce resistance from civil society given concerns over a return to autocracy.
Despite tighter security, it is likely to prove impossible to foil all acts of terrorism. Returning jihadis from Syria and Iraq, coupled with the ongoing instability in neighbouring Libya, will make it hard for the Tunisian authorities to provide security.
Although Tunisia's governments in the coming years will push for the sort of liberalising economic reforms encouraged by key donors, the powerful main labour union will oppose policies it perceives as negatively affecting its membership and hinder progress with the implementation of changes.
Protests and strikes will continue to get in the way of business operations as Tunisians become increasingly frustrated with the country's economic under-performance and the lack of action to tackle it by successive governments.
Efforts to broaden the tax net, ease employment regulations and cut subsidies will be resisted by the powerful trade unions. This will restrict the fiscal headroom for critical investment in infrastructure and poverty alleviation.
The threat of losing donor support will see the government force through some fiscal reforms, although the fiscal deficit will only come down slowly given union opposition and the slow process of formalising the grey economy.
Economic growth will pick up moderately as the forecast period progresses. Only limited pro-business reforms are likely against the backdrop of a fractious political scene, and the tourism and mining sectors remain exposed to terrorism and social unrest, respectively.
The Tunisian dinar's downward trend is set to continue as social and political uncertainty remains elevated. In addition, election-related volatility is likely in 2019.
Export performance will slowly improve as industrial commodity production increases and tourists return. However, import demand will also pick up and so the current-account deficit will remain substantial.