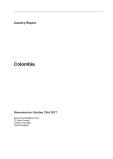 Country Report Colombia October 2017
October 2017 •
Report ID: 325814 •
Format: PDF
Outlook for 2018-22


The president, Juan Manuel Santos, will strive to advance implementation of peace accords with the leftist FARC rebels before he leaves office in August 2018. Public attention will turn increasingly to next year's general elections.
The peace process with the FARC will progress but will face challenges, and controversy over parts of the deal will sustain political tension. Talks with the smaller Ejército de Liberación Nacional (ELN) guerrillas will progress only slowly.
A modest recovery in oil prices and infrastructure investment will help to lift GDP growth in the forecast period, to 2.5% in 2018 and to 3.4% by 2022, driven mostly by domestic demand.
Tax reforms and higher oil prices will help to narrow the central government deficit to 2% of GDP in 2022, from an estimated 3.7% in 2017. The non-financial public-sector debt will rise in 2017-18, before falling to 51.3% of GDP by 2022.
Despite monetary loosening and tax increases, the stabilisation of food prices and tepid demand growth will allow inflation to ease to 3.9% at end-2017. It will stabilise within the official 2-4% target range in 2018-22.
The peso will weaken gradually, given a persistent current-account deficit, a strong US dollar, and expected slowdowns in China and the US later in the forecast period. The degree of depreciation will be moderate, however.
The current-account deficit will narrow modestly, to 2.9% of GDP by 2022, owing to an increase in oil prices from 2016 lows and some growth in non-oil exports. Foreign investment and other capital inflows will cover the deficit.


Review


In mid-October Cambio Radical, one of the parties in the governing coalition, Unidad Nacional, left over disagreements with the government over aspects of the peace accords with the FARC.
In September the demobilised FARC rebels group created its own political party, called Fuerza Alternativa Revolucionarias del Común (FARC). In addition, the government agreed a temporary ceasefire with the ELN.
The US president, Donald Trump, in September warned Colombia that he could decertify it as an ally in the fight against illegal drugs, if there is not enough progress on reducing coca growing and cocaine production.
The trade deficit fell significantly in July, by 90% year on year. The reduction was mostly due to a large increase in the export of goods, which rose by 38% year on year in July, while imports rose by only 12%.
Consumer prices rose by 0.1% in August on a monthly basis. This took annual inflation to 3.9%, above the 3.4% registered in June but well under the peak rate of 6% a year earlier.