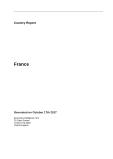 Country Report France October 2017
October 2017 •
Report ID: 325834 •
Format: PDF
Outlook for 2018-22


La République en marche (LRM), the party of the president, Emmanuel Macron, has a comfortable majority in the National Assembly (the lower house of parliament) with its centrist ally, Mouvement démocrate (MoDem).
Mr Macron is thus well placed to implement his reform agenda, which includes liberalising the labour market, building a more flexible, Nordic-style social welfare system and re-energising the Franco-German partnership.
The Economist Intelligence Unit expects significant legislative progress, despite resistance to reforms from the public and the trade unions. However, long-standing labour market and tax system rigidities will be slow to improve.
We expect 1.7% growth in 2017-18, supported by a cyclical upswing in the euro zone. After easing to 1.5% in 2019-20 as external demand falters, we forecast a pick-up to 1.6% growth in 2021-22 as business environment reforms bear fruit.
The government will probably just miss its 2.9% of GDP budget deficit estimate for 2017, but we expect stronger progress in deficit reduction from 2018 as Mr Macron ploughs ahead with unpopular spending cuts.
We expect EU harmonised consumer price inflation to pick up to 1.1% in 2017 and 1.4% in 2018, and to stabilise at around 1.6% in 2019-22.
The current account will continue to record deficits of around 1% of GDP, but we expect a slight narrowing of the shortfall in the second half of the forecast period (2018-22) as a result of gradual improvements in competitiveness.


Review


In a speech at the Sorbonne on September 26th, two days after the German election, Mr Macron sketched out an ambitious vision for the future of Europe. He emphasised the importance of greater EU-level integration in areas such as defence while soft-pedalling controversial calls for euro zone reforms.
An agreement was reached to merge Alstom, a French rail transport manufac-turer, with Siemens, a German industrial manufacturer. Separately, Fincantieri, an Italian state-controlled firm, bought a 51% stake in the biggest French shipyard, at Saint Nazaire, albeit with tough protections for French workers.
Florian Philippot, a key figure in the far-right Front national (FN), was forced out of the party. Meanwhile Jean-Luc Mélenchon, the anti-globalisation far-left leader, further cemented his status as the main opposition to Mr Macron.
The government presented its 2018 budget. This targets a 2.6% of GDP deficit, narrowing from an estimated 2.9% this year, despite assorted tax cuts.
Purchasing managers' indices (PMIs) showed the economic upswing con-tinuing in September, with services, manufacturing and retail all picking up from August, and all well above the 50 that indicates expansion.