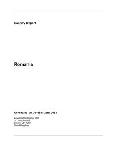 Country Report Romania October 2017
October 2017 •
Report ID: 325919 •
Format: PDF
Outlook for 2018-22


The current left-of-centre coalition government is likely to serve a full term, barring any further serious incidents (such as the 2015 Colectiv nightclub fire). Risks to political stability will be sizeable over the forecast period (2018-22).
Demonstrations since early 2017 against the government's attempts to weaken anti-corruption efforts have revealed the level of public dissatisfaction with the political class and the level of support for the fight against corruption.
Tensions are likely between the Social Democratic Party (PSD)-Alliance of Liberals and Democrats (ALDE) government on one side and an increasingly independent judiciary and the president, Klaus Iohannis, on the other.
The PSD will pursue an "anti-austerity" programme involving continued tax cuts, as well as increases in public-sector wages and welfare benefits. These measures will support robust private consumption growth.
The Economist Intelligence Unit estimates a budget deficit of 3.6% of GDP on the ESA 2010 measure in 2017, which would be in breach of EU fiscal rules. We expect mild fiscal consolidation in 2019-22.
The National Bank of Romania (NBR, the central bank) is likely to tighten policy in the second quarter of 2018 to counter economic overheating.
Following real GDP growth of 4.8% in 2016, we expect growth to average 4.1% per year in 2017-22, largely driven by private consumption.
We forecast average annual current-account deficits equivalent to 3.3% of GDP in 2017-22, following a deficit of 2.3% of GDP in 2016.


Review


In September the consumer price index (CPI) rose by 1.8% year on year (unadjusted) and by 0.5% month on month, the highest monthly rate so far this year.
On October 10th the justice minister, Tudorel Toader, stated that he would not amend controversial proposals to reform the justice system before sending them for approval by parliament, despite their rejection by the Superior Council of Magistracy on September 28th.
On September 22nd the National Anti-Corruption Directorate (DNA) began a corruption probe into several ministers of the PSD government.
On September 8th the government approved the first revision of the consolidated budget for 2017. The government also revised up the real GDP growth rate for 2017, from 5.2% in the original consolidated budget approved in January, to 5.6%.