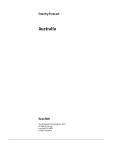 Country Forecast Australia June 2018 Updater
June 2018 •
Report ID: 329473 •
Format: PDF


The next general election is due by November 2019. The increased tensions between the governing coalition partners-the Liberal Party and the National Party-makes it less likely that they will risk calling an election. Although an early poll is possible, The Economist Intelligence Unit believes that the likelihood of it being held in the near term has faded. We expect Labor to win the next election, regardless of when it is held.
Successive governments will remain generally open to foreign investment. However, restrictions on foreign investment in residential housing and agri-cultural land, and by foreign state-owned enterprises, are likely to be tightened, whichever party wins the next election.
We expect the government to miss its goal of returning the budget to surplus in fiscal year 2020/21 (July-June), as we expect economic growth to undershoot the Treasury's projections. We forecast that the fiscal deficit will narrow from the equivalent of 1% of GDP in 2018 to 0.4% in 2022.
We anticipate that the Reserve Bank of Australia (RBA, the central bank) will keep monetary policy unchanged in 2018, raising the key policy interest rate, the cash rate, by 25 basis points in the first quarter of 2019. We expect the RBA to hold rates in 2020 as external conditions deteriorate, before gradually tightening monetary policy in 2021-22 as the outlook for the Australian economy improves and inflationary pressures start to re-emerge.
We forecast that real GDP will expand at a respectable rate in 2018-22, at 2.4% a year on average. Economic expansion will be supported by solid growth in government consumption and public investment and a pick-up in business investment in the latter half of the forecast period.
Consumer price inflation will average 2.5% annually in 2018-22, remaining within the RBA's 2-3% target range. Higher global crude oil prices will put upward pressure on domestic inflation. A strengthening of the Australian dollar against its US counterpart in 2018-19 will help to ease this pressure marginally. The local currency will depreciate in 2020 but will strengthen again in 2021-22.
Australia's external balance will remain closely tied to commodity prices, such as for iron ore, coal and liquefied natural gas (LNG), throughout the forecast period. Fairly stable commodity export prices in 2018-22 will support the continuation of a trade surplus. Nonetheless, the current account will remain in deficit owing to a still-sizeable primary income debit.