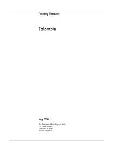 Country Forecast Colombia May 2018 Updater
May 2018 •
Report ID: 329494 •
Format: PDF


The president, Juan Manuel Santos of the centre-right Partido Social de Unidad Nacional, and his successor who will take office in August 2018, will direct the implementation of a peace agreement with the former FARC rebels. A peace agreement with a smaller group, the Ejército de Liberación Nacional, is unlikely to occur until well into the next government's term. With government revenue still low, the need for fiscal consolidation will complicate efforts to boost growth, finance peace-related reforms and improve public services.
Tension related to the peace accord has recently heightened, but The Economist Intelligence Unit expects implementation of the deal to continue. This will bolster long-term economic and institutional development, but violence and crime will remain significant problems. Implementation will face important setbacks if, as expected, Iván Duque of the right-wing Centro Democrático party wins the presidency in a run-off in June, reflecting opposition to some of the deal's provisions. We expect Mr Duque to face the leftist Gustavo Petro in the run-off.
We expect the non-financial public sector (NFPS) deficit, forecast at 2% of GDP in 2018, to narrow gradually to 1.4% of GDP in 2022, reflecting improving oil prices and stronger economic growth. We expect the public debt burden to rise slightly through 2019, before easing later in the forecast period. Larger fiscal and oil revenues will put the public finances on a sounder footing.
GDP will grow by 2.5% in 2018, reflecting fading fiscal constraints and improvement in consumer confidence. It will firm up thereafter as government consumption and investment, as well as private consumption, pick up, aided by lower inflation and interest rates. At an average of 3.3% per year in 2019-22, growth will be lower than in the boom years of the commodities supercycle.
The current-account deficit will narrow to 2.7% of GDP in 2022. It will be covered by capital inflows, but the external sector will remain vulnerable to shifts in commodities prices and investor sentiment towards emerging markets.
Trade agreements with the US, the EU and some Asian countries, as well as progress in regional integration, will support trade flows and attract foreign investment. This, along with a large, increasingly middle-class population, will sustain reasonable GDP growth in the long term.
Market opportunities will broadly expand during the forecast period, underpinned by a sizeable and growing population, rising per-head incomes, increased consumer access to credit, improvements in the business climate and infrastructure, and trade integration (regionally and globally).