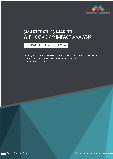 Smart Textiles Market by Type, Function, Industry, & Geography - Global Forecast to 2020
July 2015 •
142 pages •
Report ID: 3362931 •
Format: PDF
This report focuses on the smart textiles market which is sub segment of wearable electronics. Smart textiles are also known as smart fabrics or e-textiles and can be defined as fabrics that are capable of communicating with their environment. This ability of communication or interaction comes through physical stimuli from thermal, mechanical, electronic, electrical, and chemical sources among others. The miniaturization of electronic components and the use of conductive materials such as conductive yarns and other structures have enabled the development of smart textiles.

This report is based on an extensive research study of the smart textiles market and aims at identifying the entire market and all its sub-segments through extensively detailed classifications. The demand for smart textiles is expected to grow significantly and gain importance among players across various domains. APAC is projected to be the fastest growing market during the forecast period.

This report is focused on giving a bird's eye-view of the market with regards to qualitative analysis at each and every aspect of the classification done on the basis of type, function, end-user industry, and geography.

The report provides a forecast of the growth of the smart textiles market between 2015 and 2020. A competitive landscape of the current market has been analyzed from the market share analysis and rankings of current key players; all the other details of key players are discussed in their company profiles. The information provided in this report includes market share of leading companies in the smart textiles ecosystem, key developments, core strategies deployed by various players, mergers and acquisitions, new product developments, collaborations, and joint ventures of key manufacturers along with their company profiles.

The report also discusses the future of the global market with roadmaps, upcoming technologies, and applications with respect to smart textiles market. Key players in this industry include E.I. du Pont de Nemours and Company (U.S.), Google Inc. (U.S.), Intelligent Clothing Ltd. (U.K.), International Fashion Machines, Inc. (U.S.), Interactive Wear AG (Germany), Schoeller Textiles AG (Switzerland), Textronics, Inc. (U.S.), Vista Medical Ltd. (Canada), Textronics, Inc. (U.S.), Gentherm Incorporated (U.S.), and Sensoria Inc. (U.S.).