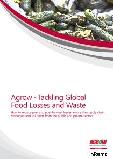 Agrow - Tackling Global Food Losses and Waste
July 2015 •
116 pages •
Report ID: 3387400 •
Format: PDF
A figure of 30% is commonly quoted for global food loss and waste (FLW), but estimates vary considerably between emerging and developed markets, both of which are fully covered in this report.

In emerging markets most losses occur at the production stage, both on farm and during transportation, whilst the majority of losses in developed markets are at the consumption stage. In both cases, education and dissemination of knowledge can play a large part in addressing FLW, as the report explains.

A broad range of interventions can be applied to reduce FLW at and across the different stages in the value chain, such as pest management, harvesting, threshing, storage, transport, distribution, packaging, processing, retail, consumption, food services and hospitality, as the report details.

Over 40 generic strategies are identified in this report and the specific actions described number several hundred, across both the public and private sectors.

With the right programmes and incentives it has been shown that significant improvements can be achieved very rapidly, demonstrating the importance of political will, the author concludes.