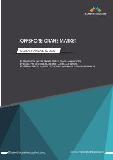 Offshore Crane Market by Application, by Design Type, by Lifting Capacity & by Region - Global Forecast to 2020
December 2015 •
140 pages •
Report ID: 3508688 •
Format: PDF
The rise in the subsea construction vessel industry has given a boost to its related equipment industry such as offshore cranes. In this growing environment, subsea construction vessel is considered as an inevitable part of the subsea infrastructure and performs as the logistics backbone for the offshore oil & gas industry. The offshore crane market is projected to reach a market size of USD 21.64 billion at a CAGR of 8.8% from 2015 to 2020. Rapid technological advancements, increase in the offshore renewable industry, and growing demand for oil & gas are the major driving factors for the market.

Lattice boom design is expected to have the highest growth rate in offshore cranes market
Globally, lattice boom design for offshore crane is estimated to grow at the highest rate. In terms of application, marine crane is estimated to lead and is slightly ahead of others cranes market. The growth of lattice boom design is attributed to the development of new projects of offshore wind turbines in regions such as Germany and the U.K.

Americas to lead the global offshore crane market in terms of growth rate
The Americas has taken the lead with the fastest growth rate among all other regions followed by Asia-Pacific. The discovery of new oilfields in the Brazilian basins will propel the demand for offshore support vessels in South America. The increase in the demand for offshore support vessels will further boost the demand for offshore cranes in the respective regions directly.

Breakdown of primaries:
The data have been collected through several primary and secondary sources. A comprehensive discussion guide was sent to several experts in the field of offshore/marine for the verification of market findings.
By Company Type: Tier 1- 35%, Tier 2- 45%, and Tier 3- 20%
By Designation: C-Level-35%, Director Level-25%, and others-40%
By Region: Asia-Pacific-36%, Americas- 28%, Europe-22%, and the Middle East & Africa-14%

Note: *Others include sales managers, marketing managers, and product managers
The tier of the companies is defined on the basis of their total revenue, as of 2013: Tier 1 = >USD 10 billion, Tier 2 = USD 1 billion to USD 10 billion and Tier 3 =
Companies Profiled:
Cargotec (Finland), Huisman (Netherland), KENZ-FIGEE (Netherland), Konecranes (Finland), Manitowoc (U.S.), Terex Corporation (U.S.), Palfinger (Austria), Zoomlion (China), National Oilwell Varco (U.S.), and Liebherr (Switzerland).

Reasons to buy the report:
1. The report identifies and addresses key markets for offshore cranes, which is useful for suppliers and OEMs to review production and distribution plans.
2. The report includes analysis for key countries by application, design type, and lifting capacity. It analyses historical trends and also forecast the market for 2020, assisting in strategic decision making.
3. It also presents competition by analyzing recent market developments such as key contract & agreements, expansions, and new product launches from the key global market players. It helps to understand the competition strategies and plan respective initiatives.