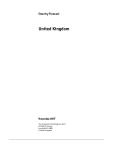 Country Forecast United Kingdom November 2017 Updater
November 2017 •
Report ID: 358962 •
Format: PDF


Following the snap general election on June 8th, in which the Conservative Party lost its parliamentary majority, the prime minister, Theresa May, formed a minority government based on a "confidence and supply" agreement with the Democratic Unionist Party (DUP). The government will be fragile, and The Economist Intelligence Unit does not expect it to last a full five-year term; its working majority of 13 (down from 17 before the election) will be eroded by by-elections, and it will face domestic and external challenges during the Brexit process.
Mrs May's position has been greatly weakened by a series of scandals relating to the misconduct of members of parliament in late 2017-which led to the resignation of two ministers. There is a significant risk that tensions within the cabinet and the Conservative Party over the government's Brexit strategy will come to a head, resulting in a political crisis.
In March 2017 parliament approved Article 50, beginning the two-year process by which the UK will leave the EU. Mrs May said that the UK would leave the single market and the customs union, but her government will face pressure to soften the terms of Brexit. The government will aim to reach a deal on the new UK-EU trading relationship by March 2019. At that stage the UK will leave the single market, and the terms of the new relationship will be phased in gradually. If negotiations fail and no extension of the deadline is agreed by all 27 EU members, the UK will leave the EU in 2019 without any deal in place and will revert to World Trade Organisation (WTO) trade rules.
The economy has been resilient in the wake of the Brexit vote. However, we expect growth to slow to 1.6% in 2017 as rising inflation and uncertainty about the Brexit negotiations dampen domestic demand. We forecast average real GDP growth of 1.5% per year in 2018-19 as the economy adjusts, picking up to an average of 1.9% per year in 2020-22.
We expect the government's budget deficit to widen to 3.3% of GDP this year, after narrowing to 2.9% in 2016 (from 4.3% in 2015). A deficit will persist throughout the forecast period (2017-22). In November 2017 the Bank of England (BoE, the central bank) raised interest rates for the first time in a decade, but is likely to go into wait-and-see mode for the duration of the Brexit negotiations, before moving to normalise policy again in mid-2019.