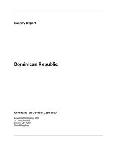 Country Report Dominican Republic October 2017
October 2017 •
Report ID: 359656 •
Format: PDF
Outlook for 2018-22


The president, Danilo Medina of the Partido de la Liberación Dominicana (PLD), has firm approval ratings, despite rising discontent over corruption allegations. The PLD's control of Congress will support political stability.
The administration's policies will continue to focus on poverty reduction, and investment in education and housing. Electricity reforms will be on the agenda, but structural reforms are unlikely to materialise in the medium term.
Measures to increase fiscal income will narrow the deficit to 1.9% of GDP in 2018. The deficit will widen in 2019-20 owing to increased expenditure ahead of national elections in 2020.
The Economist Intelligence Unit expects GDP growth to slow, bottoming out at 3.1% in 2020 owing to weaker international economic conditions that year. A recovery in US demand will see growth bounce back to 3.5% in 2022.
Subdued global oil prices and currency depreciation will contribute to relatively low inflation in 2018-22, averaging 3.8%-close to the lower end of the official target range of 3-5%.
The current-account deficit will widen from 2.1% of GDP in 2017 to 3.6% in 2022, reflecting higher global prices for the country's imports. Remittances and tourism growth will not be enough to offset rising imports.
Despite a larger current-account deficit, foreign direct investment and the country's limited exposure to volatility in global financial markets will keep peso depreciation moderate in the outlook period.


Review


Owing to increased public dissatisfaction, Mr Medina replaced the head of the national police in late August. The measure is the latest of a series of efforts to tackle criminal activity.
Preliminary supply-side data reveal that year-on-year GDP growth for the second quarter was 2.7%; annual growth in January-June was 4%. The construction sector continues to post annual contractions.
At 3.2% in August, annual inflation re-entered the 3-5% target band set by the BCRD for the first time since May. The result was influenced by government-sanctioned increases to fuel prices.
Preliminary data show that the current surplus in the first half of 2017 reached US$255.4m, more than three times the US$67.1m surplus recorded a year earlier. Workers' remittances and tourism were behind the increase.
Tourist arrivals totalled 520,790 in August, bringing the accumulated figure in the first eight months of the year to 4.4m, a 5.6% year-on-year increase. Driving the increase are arrivals from Europe.