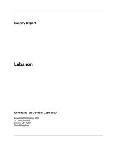 Country Report Lebanon October 2017
October 2017 •
Report ID: 359700 •
Format: PDF
Outlook for 2018-22


The political climate will remain highly fractious. The coalition government includes bitter rivals, leading to stalemate and division, impairing policymaking and reinforcing sectarian divides.
Political stability will not improve after a long-awaited parliamentary election is finally held in May 2018, with any future coalition taking a prolonged period to form and certain to be split along confessional lines.
We expect the civil war in Syria to become less intense but to continue; Lebanon will still face security challenges from jihadi groups.
Lebanon's Gulf allies will remain concerned about the growing influence of Hizbullah, but we expect Gulf support for Lebanon to recover gradually.
The fiscal deficit will remain large, and reduced assistance from the Gulf countries in the early part of the forecast period will complicate financial management. Debt-service costs will remain high but will be met.
An easing of Syria's war will have a mildly positive effect on Lebanon's economic growth, with real GDP expanding by an average of 3.3% in 2018-22 owing to improved trade and investment conditions.
A more contained conflict in Syria will support a gradual improvement in Lebanon's export performance. Nevertheless, the trade deficit will remain large as the burden of the much larger import bill continues to grow.


Review


The US ambassador to the UN, Nikki Haley, has criticised the reappointment of Major-General Michael Beary as head of UN Interim Force in Lebanon (UNIFIL) amid concerns he has not put sufficient pressure on Hizbullah.
In September the president, Michel Aoun, visited France on a state visit. The French president, Emmanuel Macron, promised to organise conferences on donor support and military aid to Lebanon and Syrian refugee policy.
We expect an amended tax package, aimed at funding the long-delayed public-sector wage increases agreed earlier in the year, to be approved and to come into effect by 2018.
Parliament has ratified the Public-Private Partnership Law, setting the stage for private-sector participation in public infrastructure projects.
Banque du Liban (the central bank) is planning to implement a US$1.2bn stimulus package, with the aim of boosting GDP growth that year to 3.5%.
The deadline for closing Lebanon's debut oil and gas bidding round was extended from September 15th to October 12th to allow parliament to vote on a new petroleum tax law on September 19th.