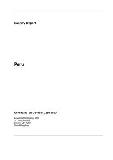 Country Report Peru October 2017
October 2017 •
Report ID: 359730 •
Format: PDF
Outlook for 2018-22


The president, Pedro Pablo Kuczynski of the centre-right Peruanos Por el Kambio, faces resistance from the main opposition party, the right-wing Fuerza Popular, which will hamper policymaking.
The government will retain and bolster the prudent policy framework that has underpinned Peru's rapid development over the past decade, although progress on passing legislation on structural reforms will be slow.
The Economist Intelligence Unit forecasts that real GDP growth average 3.7% in 2018-22 annually, dampened moderately by slowdowns in China (in 2018-19) and the US (in 2020).
The fiscal deficit will widen in to 3.3% of GDP in 2018 (up from an estimated 2.7% in 2017), before narrowing to 1.4% of GDP by 2022. The public debt/GDP ratio will rise from 25.7% of GDP in 2017 to 29.2% in 2022.
Inflation will average 3.1% this year and fall within the 1-3% official target range in 2018-22, given moderate currency weakening and rising import costs. Occasional supply bottlenecks will lead to temporary inflationary spikes.
The currency will depreciate slightly in 2018-22. The Banco Central de Reserva del Perú (BCRP, the central bank) will accumulate foreign reserves, reflecting trends in the current-account and capital-account balances.
The trade surplus will remain stable in nominal terms, partly offsetting profit repatriation from foreign companies. The current-account deficit will average 1.7% in 2018-22.


Review


Peru's opposition-led Congress passed a vote of no confidence against Mr Kuczynsi's government on September 14th, prompting a cabinet reshuffle that has involved the appointment of six new ministers.
On August 30th the Constitutional Court annulled legislation that forbade lawmakers from switching congressional blocs or forming new ones.
The government has submitted its budget for 2018 for congressional approval. The budget involves spending increases in the key sectors of infrastructure, health and education.
Real GDP grew by 1.6% in July year on year, following a contraction of the fishing and manufacturing sectors.
There was an increase in the 12-month inflation rate in August to 3.2%, up from 2.9% in July. However, this was driven by higher food and fuel costs, thereby allowing the BCRP to continue monetary loosening by reducing its policy rate by another 25 basis points, to 3.5%.