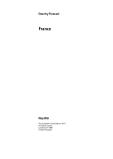 Country Forecast France May 2018 Updater
May 2018 •
Report ID: 360609 •
Format: PDF


In May 2017 the president, Emmanuel Macron, came to power as the head of a new centrist party, La République en marche (LRM). Mr Macron aims to represent "both left and right", and as such has appointed a post-partisan government led by Édouard Philippe of Les Républicains, the centre-right party.
LRM has a comfortable majority in the National Assembly (the lower house of parliament); more than 70% of the seats belong to the party and its centrist ally, Mouvement démocrate (MoDem). Opposition from the mainstream parties is limited; the Parti socialiste (PS) has only 31 seats (out of 577) and Les Républicains is deeply split, with a small "constructive group" supporting LRM.
Mr Macron is therefore well placed to implement his ambitious reform agenda. In September 2017 he passed a flagship bill to liberalise the labour market, and he is now focused on three specific areas: moving the social welfare system towards a Nordic-style flexicurity model; promoting investment via changes to the tax system; and overhauling immigration policy.
France is benefiting from a cyclical upturn in the euro zone, and real GDP growth accelerated to 2% in 2017. The Economist Intelligence Unit forecasts 1.8% growth this year as real wage growth supports private consumption, and pent-up demand spurs investment growth (albeit at a slower rate than in 2017).
We forecast average annual real GDP growth of 1.7% in 2019-22, with the current phase of business environment reforms starting to bear fruit towards the end of our forecast period (2018-22). The current-account deficit will remain broadly stable throughout our forecast period, at about 1% of GDP.
Stronger economic growth is supporting fiscal consolidation. The budget deficit narrowed to 2.6% of GDP in 2017, bringing it within the EU's 3% of GDP limit for the first time in a decade. We forecast a 2.4% of GDP shortfall in 2018, with consolidation continuing at a slower pace thereafter.
EU harmonised consumer price inflation averaged 1.2% in 2017, reflecting the recovery in global oil prices. We forecast 1.5% inflation in 2018 and an annual average of 1.6% in 2019-22 as domestic demand pressures strengthen.