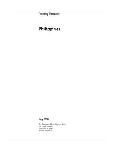 Country Forecast Philippines May 2018 Updater
May 2018 •
Report ID: 360665 •
Format: PDF


The president, Rodrigo Duterte, will complete his constitutionally mandated single six-year term in office, but his position is not unassailable. Party lines are fluid in the Philippines, and the backing that Mr Duterte currently enjoys in Congress (the legislature) will be tested in the run-up to the 2019 mid-term elections. The president's controversial anti-crime campaign and his broader national security agenda will continue to dominate the policy environment.
Prospects for lasting peace in the southern region of Mindanao are remote under Mr Duterte. Martial law has been extended until the end of 2018 so that the military can crack down against communist militants. The Bangsamoro Basic Law, which aims to provide new rights for the Autonomous Region of Muslim Mindanao, will face a difficult path through Congress.
The budget balance will stay in deficit throughout 2018-22 as the govern-ment increases spending on infrastructure and essential social services; the admin---istration has raised the cap on the fiscal shortfall to the equivalent of 3% of GDP, from 2% previously. The Economist Intelligence Unit forecasts that the deficit will remain below this cap, however, averaging the equivalent of 2.1% of GDP in 2018-22.
Consumer price inflation will average above the 4% upper limit of the monetary authority's target range in 2018-19, compelling the Bangko Sentral ng Pilipinas (BSP, the central bank) to tighten monetary policy further. Such tightening is unlikely to affect economic activity significantly as policy rates remain close to record lows. We expect this tightening cycle to end in 2020, when domestic economic growth is hit by a temporary business-cycle recession in the US.
Real GDP growth will average 6.2% a year in 2018-22. Private consumption will remain a key pillar of economic expansion during this period, growing at an average annual rate of 5%. Investment growth will moderate compared with the historical period, to an average of 6.5% a year, as businesses adopt a more cautious approach because of Mr Duterte's erratic style of governance.
In recent years the trade deficit has widened considerably on the back of strong domestic demand for imported goods, pushing the current-account balance into the red in 2016-17. Although we expect this trend to moderate over the coming years, the Philippines' current-account balance will record only a minor surplus on average in 2018-22, at the equivalent of 0.2% of GDP.