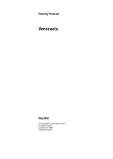 Country Forecast Venezuela May 2018
May 2018 •
Report ID: 360701 •
Format: PDF
Policy towards private enterprise and competition
2018-19: Government persists with bias against free markets and ad hoc recourse to heterodox measures. Corruption and selective application of regulations (such as maximum prices) remain common and undermine free competition. Property rights remain weak.
2020-22: Gradual improvement in contract rights and the burden of red tape under a new government, as well as a decline in ad hoc interventionism.
Policy towards foreign investment
2018-19: Access to project financing is difficult and uncertainty over contractual rights persists.
2020-22: Efforts to attract foreign investment gather pace under a new government, although actual investment flows remain low amid probable economic instability. Intellectual property protection and private property rights improve.
Foreign trade and exchange control
2018-19: Opaque currency controls add to uncertainty, severely restrict private-sector access to foreign exchange and impede trade. New government in 2019 starts removing exchange controls.
2020-22: Efforts to remove trade and capital controls are taken on a gradual basis, owing to the risk of economic dislocation. Domestic supply of foreign currency improves only very slowly.
Taxes
2018-19: Risk of further unrest and political stability reduces the probability of tax increases, despite the huge fiscal deficit. Severity of economic crisis precludes major public spending increases.
2020-22: Tax system remains complex and unwieldy, but the risk of discriminatory ad hoc tax measures falls.
Financing
2018-19: Amid severely high inflation, financing remains only available in the short term and banking sector shrinks in real terms.
2020-22: Economic adjustments take time to feed through to solid sustainable growth in credit to the private sector and development of capital markets. Long-term finance remains in short supply.
Labour market
2018-19: Labour laws add substantially to non-wage labour costs. An ongoing freeze on redundancies, combined with a large informal sector and skill shortages, makes the labour market exceptionally rigid.
2020-22: Labour market rigidities persist, despite some increase in the flexibility of hiring and firing practices.
Infrastructure
2018-19: Underinvestment in the water and electricity grid ensures that rationing and unpredictable blackouts remain a cause for concern.
2020-22: Private-sector investment starts to pick up, but there is a risk of continued water and electricity rationing.
Technological readiness
2018-19: E-government services remain almost non-existent and deteriorating infrastructure limits adoption of new technologies.
2020-22: Limited regulator capacity and years of underinvestment continue to limit internet and mobile coverage